Kylie Jenner is one sexy momma!
Over a year after giving birth to daughter Stormi Webster in February 2018, the Life of Kylie star appears to have her old body back.
Related: Kylie Jenner SLASHES Price Of Lip Kit Named After Jordyn Woods!
On Tuesday, when a fan asked on Instagram Live how she "got a flat tummy again," the 21-year-old responded:
"Honestly, it's all about diet for me… I'm naturally just a really skinny person… like [sister] Kendall Jenner, but not like Kendall—she's naturally like, model status… But, yeah, I always had a really flat stomach, but I never felt it went back to before Stormi until recently. And I feel like it has a lot to do with diet. Like, I really eat very crazy usually, like whatever I want—pizza, pasta, a lot of diary, and I just kind of cut that all out, and have just been eating better, and I feel like that's the trick for me, personally."
The KUWTK personality added:
"And I also think after a child, it really does take just as long to get your body back as it did to create a child… Because, I heard that from a  lot of people. Like, it takes a full year…it really does, it really does. I definitely feel back to myself again."
According to a deleted tweet in March, Travis Scott's girlfriend gained 40 pounds during her pregnancy. The next month, Jenner said on Snapchat that she needs "to lose 20 pounds"… as she enjoyed a sheet pan of freshly baked rolls!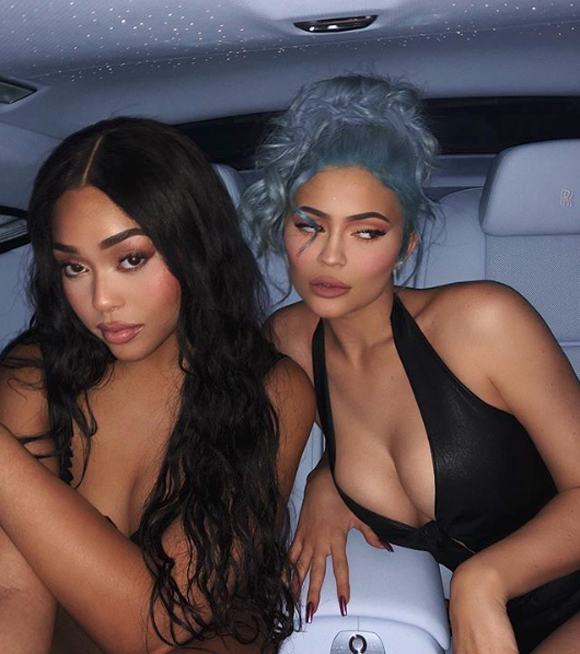 In regards to her pregnancy diet, the makeup mogul dished:
"I ate lot of Eggos—and if you know me, I hate Eggos, always have… But when I was pregnant, I was like mmm! I ate like three a day. I just ate like a magnitude of food—so much, so much food. And, I was having a girl, and they say when you're having a girl, you crave more, like, sweets vs. salty, and that was true for me. Like, a lot of Krispy Kremes, a lot of sweets. Nothing weird or crazy, but just really sweet things—ice cream, just whatever I wanted."
WATCH the clip (below):
As we wrote last Friday, a People source said "[Kylie and ex-BFF Jordyn Woods'] friendship is not 100% over" following reports that the 21-year-old model allegedly had an affair with Tristan Thompson, which reportedly lead to his breakup with Khloe Kardashian.
Though they haven't spent any time together, the two young ladies are texting. The insider continued:
"Although she doesn't live at Kylie's, Jordyn still has things there. She and Kylie aren't socializing, but are in contact. They are texting each other."
A second source said the two are "working on rebuilding their friendship."
In an interview with Red Table Talk's Jada Pinkett Smith, Woods DENIED hooking up with Thompson, except for a goodbye kiss that HE allegedly initiated.
[Image via Kylie Jenner/Instagram.]
The post Kylie Jenner Reveals How She Got Her 'Flat Tummy' After Giving Birth To Stormi Webster! appeared first on Perez Hilton.