Two of Michael Jackson's biggest defenders are processing the information presented in HBO's Leaving Neverland documentary — and, in at least one case, rethinking their defense of the superstar.
Related: Radio Stations Dropping MJ Music After 'Leaving Neverland'
Paris Jackson took to Twitter on Wednesday to blast reports that she's already made a statement defending her late father following the controversial documentary. Calling out a Gay Star News tweet that stated she "believes her father, Michael, is innocent of sex abuse claims," the 20-year-old wrote in a since-deleted tweet:
"I actually haven't made any statements yet, especially regarding how it affects my work life. You guys are reaching a bit. At least this wasn't a disgusting and attacking article though."
The model followed up her statement with another tweet, telling everyone to calm their "tittaaaaysss," writing:

Well, it is a serious situation, gurl…
After her seemingly laissez faire attitude sparked some outrage, Paris followed up her message by promoting the benefits of reacting with a "clear mind" instead of snapping into a rage-filled judgement. She wrote:

Probably the best approach.
The tweets came after HBO aired Leaving Neverland in two parts on Sunday and Monday. The film detailed shocking and disturbing allegations of sexual abuse against the late King of Pop from accusers James Safechuck and Wade Robson. Both men allege that Jackson groomed and developed sexual relationships with them when they were young boys.
While MJ's daughter might still be on his side, one of his most vocal supporters has since stated he can "no longer defend" the superstar: Corey Feldman.
A day after the actor denounced the allegations made in Leaving Neverland, he appeared on HLN to clarify his comments. Speaking to Mike Galanos, Feldman explained that while Jackson never acted inappropriately towards him, he is taking Safechuck and Robson's allegations seriously.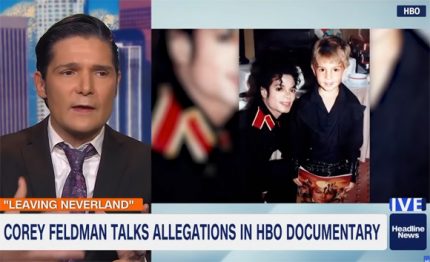 Feldman went on to say that he thought the allegations made against Jackson were "shocking and disturbing." Although he initially criticized the documentary for not interviewing anyone in Jackson's corner, Feldman insisted he was merely commenting on the doc's journalistic value and was not victim blaming.
As a sexual abuse survivor himself — one that, he claims, has been trying to take his abuser to trial for years — the Goonies star said it's important that we "listen to all victims right now." Feldman didn't say Jackson was flat out guilty, but he made it clear he could no longer defend the superstar.
Watch the interview (below) to see how the actor is changing his tune.
[Image via HLN/Sheri Determan/Chris Connor/WENN]
The post Corey Feldman Can 'No Longer Defend' Michael Jackson As Paris Jackson Addresses 'Leaving Neverland' Fallout appeared first on Perez Hilton.